NEW PRICING!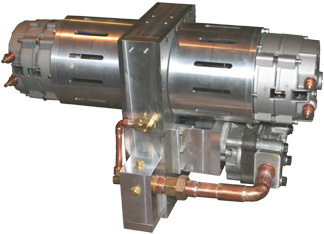 HW400F Open Frame Hydraulic Drive Welder
400A 100% Duty -- 16-20 gpm @ 2000-2500psi
Equipping a mobile aerial work platform with a ZENA
™
mobile welding system
OEM manufacturers have been installing ZENA welders on many types of vertical personnel lift (Man Lift, Scissor Lift, Boom Lift, Stick Boom, Articulated Boom, Boom Truck, Mast Lift, etc.*) for a number of years and, during the same period, owners of existing man lifts have been retrofitting both hydraulic and belt drive ZENA welding systems to existing machines. Both recognize the many benefits of having a high amp welder built into a work platform/lift.
For example:
No need for an expensive huge, tow-around welder (or the maintenance associated with such machines);
No need for hundreds of feet of heavy/overlong power wasting welding cables;
No need for an expensive ground person just to move the welder and adjust it's controls for the lift operator;
Much better inherent reliability, much lower operating costs (only one piece of equipment to maintain/rent, internal welding leads protected from damage, significant fuel savings, etc.);
Increased revenue/profit the rental equipment operator AND, at the same time, lower costs for the renter
Welding is equipment "invisible", greatly reducing incidents of vandalism/theft.
Attempts to simply attach conventional, bulky/heavy, engine driven welders to lifts help to some extent, but leave problems with vandalism, system control, operating costs, platform payload, and maintenance. Also a welder large enough to be of commercial use is quite difficult to securely attach to existing equipment.
Likewise, using a shop welder (typically a wire feed unit) which is mounted in the platform area, powered by an AC generator mounted elsewhere on the lift, resolves some problems but leaves others -- vandalism, damage/premature equipment failure due to exposure to the elements, lack of sufficient power for welding heavy steel, inability to do both stick and wire welding, loss of platform payload/workspace, etc.
It's easy to see why investment in a powerful ZENA onboard welder makes so much sense!

Welding Controls in electrode holder?
OR
Welding Controls in operator's panel?
ZENA welders come standard with a unique control system in which all welding controls are built into the electrode holder. Power on/off, welding amperage, even a power boost function, are all at the operator's fingertips. In fact, the operator can even make adjustments to welding current while actually welding! A fantastic system, but one which has components which are more vulnerable to mishandling/loss than your garden variety welding cables -- particularly when working in tough conditions and/or with careless operators.
Pretty much by definition, man lifts operate in environments where things like welding cables disappear, are dropped from 100' in the air, are run over, lost, walk away, etc. Therefore, we recommend that, unless our standard remote controls are mission critical, an alternate control system (which we have developed just for this sort of equipment/duty) should be installed. With this alternate control system, welder controls are installed in the platform control panel so as to allow the use of any standard welding cables -- and to protect them from most hazards.
With this system, typically, the lift operator will have a single welding current control (power) dial on their lift control panel and a toggle switch used to turn the welding system on, or off. For 400A welding systems, a second toggle switch is also panel mounted to provide the operator with the ability to select a low and high range of adjustment for their power dial (20-200A or 40-400A). A momentary contact switch (often a foot operated control), is the final control element -- used to activate the generating equipment to produce current for a welding arc.
If desired, the momentary contact switch can be eliminated -- replacing it with a switching device that automatically senses electrical contact, suitable for welding, between the operator's welding electrode tip and a work piece to which the ground clamp has been connected. The switch ignores poor electrical contact. For example, a connection through the body of the welding equipment operator will not cause the system to activate/produce welding current.
With this electronic switch (our model TS101), no operator controls are necessary to start or stop the welding arc -- on/off control is completely automatic! And, another control, which could be damaged or lost on the job site, is eliminated -- further enhancing field reliability. CLICK HERE to view a typical wiring diagram.
NOTE:
Combinations of automatic and manual controls are also available -- as are controls which enable the welding system to produce DC current for battery charging, lighting, or high-quality AC current production by inverter.

Engine Direct Drive or Hydraulic Drive?
The method of installation chosen, the desired control system, and the quality of the installation arefactors that not only determine cost but also determine how the ZENA welder will function in a particular application. These factors also bear on how much routine maintenance may be required to keep the welder running day in and day out in all sorts of weather and all sorts of environmental conditions.
It is almost always less expensive to belt drive the ZENA power generator from an existing engine. And, to date, most ZENA welders, on lifts, have been installed in this way -- particularly factory installed units. Done right, you have a reliable welder with only the need to occasionally tighten or replace belts. (Use an automatic belt tensioner like our AIRT101, and the need for belt adjustment goes away -- leaving only the need for periodic belt replacement.)
For factory installed welders, where common power plants are used, and where installation is done on an assembly line, it's hard to beat the belt drive version for economy. However, if you are field retrofitting to different equipment models (particurarly rental equipment), or a factory dealing with a number of different engine models, or a factory installing the welding system on inventory units, after production, as optional equipment to meet customer requirements -- it makes sense to look at a hydraulic drive welding system.
Silent Chain Drive -- the key to
maintenance free operation
Second Generation Hydraulic Welders
Our second generation hydraulic drive welders have been specifically designed for field retrofit to, and use in, all types and brands of hydraulically driven man lifts -- particularly equipment which will see long term use in rental service and/for remote use construction equipment.
Over the years, owners of man lifts equipped with ZENA mobile welders have found that the quality of installation is critical to efficient, low cost, long-term operation. Weaknesses inherent in the method and/or bracketing components used in a welding system installation may combine to cause unforeseen maintenance problems, typically belt and/or wiring related, as service hours build up.
For example, failure to carefully follow bracketing fabrication guidelines in our Operator's Manual can cause such problems. Or, if the strength and/or longevity of materials selected for bracketing components is inadequate for the strains placed upon them by a powerful welding system, operating in a high temperature/high vibration environment, less than satisfactory results may result.
Such problems do not necessarily inhibit welding performance, nor do they, in most cases, harm or substantially reduce the service life of the ZENA welding system components. However, they can cause owners to do more maintenance than would be typically required for an identical ZENA welding system, properly installed, for example, on a free standing gas or diesel engine of similar size and power.
If you are a factory fitting welders to equipment with common features/power plants, or if you are retrofitting a single lift, for your own use, and you don't mind a bit of fabrication work (and/or possibly having a few parts made at a local machine shop), and if you can follow instructions carefully, a belt drive system will likely provide you with an excellent welder at the lowest possible cost. However, if you don't fit this criteria, or if your staff has little time for this sort of project, we recommend fitting a hydraulically driven welder.
For the past 6 years, ZENA's hydraulic drive welding systems have always provided their owners with an inherently reliable and easy to install welder -- but one that still required some preventive maintenance, even if it was only for a periodic belt change. And, because of a compact closed case design (optimal for open air installation in automotive service vehicle application) component replacement in the field, however infrequent, could be difficult and/or time consuming.
Our second generation, hydraulic drive welders are, in this regard, completely different. They're designed to make field maintenance and installation easy!
For example, assuming installation in a relatively clean and well ventilated location, there is absolutely no preventive maintenance required for the hydraulic drive mechanism -- OR, for the welding power generating components.
No belts to tighten;
No pulleys to align;
No engine specific considerations as to unit location/drive/engine compartment cooling, etc.;
No engine brackets to fabricate, adjust or replace;
Greatly simplified wiring -- less external components, less signal carrying conductors, shielding not required on long leads, etc.;
Built-in troubleshooting diagnostics; etc.
Simply stated, we listened to customers who have been using our welders on commercial construction equipment -- both privately owned, and rental -- and came up with an easily retrofitted, and easily upgraded, welding system that provides the reliability desired with the capability to produce enough arc welding current (as much as 400A DC CONTINUOUSLY!) to satisfy virtually any commercial welding application, whether stick or wire feed -- even gouging and/or cutting!
This hydraulic welder does not have to be factory installed. It can be retrofitted in a service shop by competent technicians, with appropriate knowledge of the specific hydraulic systems and wiring on any given piece of equipment, using common hand tools, following simple wiring/plumbing instructions.
In these second generation ZENA hydraulic drive welders, hydraulic motor to welding power generator drive is by means of a sophisticated silent chain drive system, developed by a world leader in power transmission technology, Morse Industries. This provides us with a drive system with a mean time before failure of over twenty-thousand (20,000) hours!
It gets better. For example, should it ever become necessary to upgrade, replace, or service a welding power generator in the field, the task is simply accomplished. Removing and replacing a power generator takes less than 10 minutes, and requires only a small Allen wrench! In fact, a complete hydraulic generator assembly can be removed and/or replaced just about as quickly!
This welding system is designed to outlive the equipment in which it is installed -- and to be easy to move to a new lift as the old lift is retired!
Sorry for the long "advertisement", but we are very proud of these welders!

Already have a 200 or 400 Amp ZENA welding system on your aerial platform?
If you buy one of our second generation hydraulic welders as a replacement for your mechanical drive, or first generation/square case hydraulic drive ZENA welding system, you can take advantage of our No Time Limit Upgrade Offer!
We are so sold on the use of these hydraulic drive systems in man lifts, boom lifts, scissor lifts, or other aerial work platforms, that we are offering ALL owners of man lifts with existing mechanical drive 200 amp., or larger ZENA welders, an upgrade path that allows them to convert their existing equipment into one of ZENA's second generation hydraulically powered 200 or 400 amp. welding systems!
Lift owners who choose to take advantage of this upgrade offer, will be able use their existing ZENA generating and control components in their new hydraulic welders! This will result in significant savings
Further, existing components so used will be factory tested and, if necessary, fully factory reconditioned (at no extra charge) as part of the upgrade! And, all components in their new hydraulic welding system will have a full 3 year limited parts warranty (identical to that provided with brand new ZENA welding equipment).

Call 615-897-2011 now to discuss your specific application.
---
ZENA™ and HydroWeld™ are trademarks owned by ZENA, Inc. for its welding systems and related products.
US & Foreign Patents Pending
© Copyright 2005 by ZENA, Incorporated. All rights reserved.
---
* Mobile aerial work platforms are sold under a number of brand names and with a number of descriptive titles.
Key terms are defined here
JLG Industries is a leading producer of such items marketed under the JLG, Gradall®, Sky Trak®, and Lull® trademarks. Their products also include JLG® brand boom lifts, scissor lifts, and vertical personnel lifts. Another leading producer of this type of equipment Genie Industries, part of the Terex® organization, is also a world leader in the production of Genie® material lifts, portable aerial work platforms, scissor lifts, and self-propelled telescopic and articulated booms.
Genie Industries products include:
[an error occurred while processing this directive]