| | | |
| --- | --- | --- |
| e-Mail: contact@zena.net | | Welding Power Generator Installation Accessories/Bracketing Components |
| | | |
We offer a number of generic/universal bracketing accessories designed to facilitate ZENA™ mobile welding system power generator installations as well as installations of ZENA™ power generators in marine, automotive, and DC Genset applications.
These bracketing accessories range from:
adapters which can facilitate replacement of standard alternators with ZENA power generators, to
low cost, key bracketing components which are a bit harder to fabricate on site (such as the A300, A330A, A400A, A215, and A220 brackets shown below) designed to facilitate and/or assist in piggyback installations (the most popular method of installing our generators in trucks) -- where the balance of the components are locally fabricated to reduce do-it-yourself installation costs, to
split bushing cast iron double and single V balanced engine drive pulleys AND our exclusive serpentine/flat belt drive pulleys -- which can facilitate driving of ZENA power generators from small gasoline and/or diesel engines, to
bolt-together universal bracketing kits that can make fitting a ZENA power generator to a vehicle a matter of simply assembling a group of parts to fit the vehicle's engine, to
Complete, fully engineered, deluxe custom bolt-in bracket sets. These custom bracket sets are available, as special order items, for most full size Ford, Chevrolet, and Dodge trucks as well as larger Ford and Chevrolet vans. These deluxe bolt-in alternator mounting kits are also available for many models of Freightliner (including some of their vans), International, Peterbilt, Isuzu, Sterling, and Mitsubishi trucks. (Call or e-Mail for more information, and/or to receive a quote on a custom bolt-in bracketing kit for your truck.)
NOTE:
Variations on our custom bracket kits which provide bolt-in mounting of belt driven underhood hydraulic pumps (typically clutch pumps) are also available for the same models of trucks as our custom alternator bracketing kits / generator bracketing kits. Call for more information.
While not a bracketing item, one of our most popular installation accessories, by far -- particularly for vehicle installations, are our low cost automatic engine speed control kits. The vacuum powered model ASC1 shown below provides one example, an electrically powered model (our model ASC3) is also available.
Below you will find illustrations of most of our generic/universal components as well as our bolt together universal bracket kit. For more on our custom bracket kits CLICK HERE.
---

Generic and Universal Alternator Brackets / Generator Brackets
NOTE:
At any particular time, ZENA's bracketing products may vary in details of design and construction from the photos and diagrams shown here.
A300 Universal Weldable 2" Pivot Mounting
Bracket (for 150 Series Generators)

A300A Universal Adjustable 2" Aluminum Pivot
Mounting Bracket (for 150 Series Generators)
A215 Alternator support / belt tensioning bracket

A220 Heavy Duty Alternator Support /
Belt Tensioning Bracket
A210 Universal Extension Bracket

A220 Heavy Duty Alternator Support / Belt Tensioning Bracket
(also shows typical use for A210)
| | | |
| --- | --- | --- |
| | | |
| A255 & A265 Plated Steel Bolt-Together Conversion Brackets -- use to A255 to install a SR150 series power generator in place of an old style DC Generator on 2N, 8N, & 9N tractors with a generator mount on the RIGHT side -- use A265 to install the power generator on 8N tractors that have a generator mount on the LEFT side | | A200 Plated Steel Bolt-Together Retrofit Bracket -- used to install SR150 series power generators in place of old style DC Generators (typically found on Ag equipment and older vehicles) OR to facilitate installation in engines with two widely spaced mounting ears |
| | | |
| --- | --- | --- |
| | | |
| A270 Chrysler Alternator Conversion Bracket -- use to install a SR150 series power generator in place of a Chrysler saddle mount alternator | | A275 Motorola Alternator Conversion Bracket -- use to install a SR150 series power generator in place of a Motorola 1" mount alternator |
| | | |
| --- | --- | --- |
| | | |
| A290 Delco Alternator Conversion Bracket -- use to install a SR150 series power generator in place of a Delco dual ear (27si, Type 100) alternator | | A285 Alternator Conversion Bracket -- use to install a SR150 series power generator in place of a alternator |
| | | |
| --- | --- | --- |
| | | |
| A400A Universal Adjustable Aluminum 3" Pivot Mounting Bracket (similar to A300A -- for 200 Series Generators) | | 5.75" OD and 6.75" OD 8-bead Split Bushing Attach Serpentine Belt Drive Pulleys for Small Engine Applications |
| | | |
| --- | --- | --- |
| | | |
| 5.5" OD to 9.75" OD Single and Double V Drive Pulleys for Small Engine Applications | | Split Bushings used to Attach Serpentine and V Belt Drive Pulleys to Small Engines |
CLICK HERE to see more bracketing accessories
---

AIRT101 Spring Loaded Belt Tensioner
Fully compatible with the UB2 bracketing kit as well as all other ZENA bracketing components, the AIRT101 is an inexpensive fully adjustable bi-directional spring loaded belt tensioning device designed to be used with flat or V-type idler pulleys (order separately -- call) in a V-belt drive system to maintain a constant belt tension (10-30 lb.).
The use of such a device can GREATLY improve belt performance and belt life-- frequently eliminating the need for dual drive belts in high power generating systems.
---
Idler Pulley

Idler pulleys can be used to improve belt drive performance in a number of ways. For example, when belt wrap around a pulley is insufficient to provide proper drive an idler can be employed to direct the belt path so as to improve the percentage of pulley covered by the belt. Idlers can also be used to reduce belt vibration by supporting a segment of belt which is prone to vibration/oscillation
A key point to remember when sizing/selecting an idler is that the idler pulley diameter should be 130% the size of the smallest pulley in a belt system
---

Our unique Add-A-Pulley adapter kit has been designed to make installation of ZENA power generators very easy in vehicles which have serpentine drive belt systems. It can be installed easily (attaching to the existing alternator pulley) and provides, as a secondary benefit, the ability to use a reduced engine speed when welding.

A number of models are available, and most popular 4x4, truck, and auto makes are supported. When ordering make sure you advise you vehicle's make, model, engine size, and alternator type (if known).

The diagram shown below is an excerpt from the Add-A-Pulley installation instructions.
(CLICK HERE to go to Add-A-Pulley power take off information page)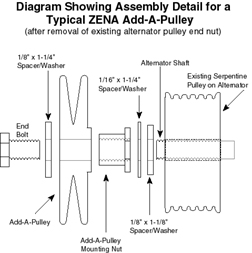 ---
UB2
Universal
Piggyback
Bracket Kit

A unique bracket kit designed to make 150A welding power generator installations as close to "bolt-in" as possible

Typical UB2 Assembly Detail

View from
Engine Side

View from
"Below"

Assembly View
from "Rear"
---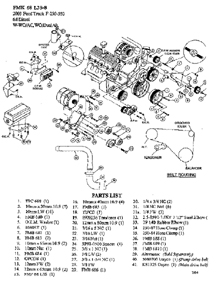 Custom Bolt-In Bracketing Kits
Custom bolt-in bracketing kits are produced for a number of popular service truck engines -- including Freightliner, International, Isuzu, Mitsubishi, Peterbilt, and Sterling.
Call for information and quotes.
---
This is our most popular accessory for vehicle installations.

While not necessary for proper equipment operation, an automatic engine speed control will save fuel and reduce engine noise when welding for extended periods. The model ASC1 is controlled electronically by the ZENA system. It automatically increases your engine speed to your preset welding speed when you activate welder power then reduces your vehicle engine speed to your normal idle speed whenever you are not actually welding.

NOTE: This accessory can also be used in a "stand-alone" configuration as a low cost high idle control for emergency vehicles and service vehicles of all types which have a vehicle vacuum source available.

The ASC1 uses engine vacuum for its actuator operation. However, for engines / applications in which a suitable vacuum source is not available order our model ASC3. This model uses an electrically activated actuator.

ASC1
---
---
ZENA™ is a trademark owned by ZENA, Inc. for its welding systems and related products.
US & Foreign Patents Pending
© Copyright 1998-2005 by ZENA, Incorporated. All rights reserved.
[an error occurred while processing this directive]