e-Mail: contact@zena.net

Installation Wiring Diagram for:
ZENA tm mobile welding systems used in
aerial work platform / man lift applications --
including: stick boom lifts, telescoping lifts,
scissor lifts, articulating boom lifts, etc.
The wiring diagram below shows how to hookup our recommended control system for welding system applications (either belt driven or hydraulic drive), such as man lifts/platform lifts, where control are to be placed some distance from the welding system, and where our standard control interface (controls built into the electrode holder) might not be appropriate, or where standard controls are to be used but where a couple large difficult to damage control wires (which do not require shielding) are preferable to a single slender multi conductor shielded control cable.
This control system is also ideal for applications where existing factory installed spare wiring leads exists within the boom, or in external wiring tracks/channels/conduits. The ability to use these "extra" wires can greatly reduce installation time, and since such factory installed wires are often very well protected from harm, using them can enhance long term system reliability.
This control system also makes maintenance and/or testing very simple -- locating all power control modules/accessories (and their built in diagnostic circuits and displays) close together at a single location where they are easily accessible by a single maintenance technician working without assistance.
Welding systems already installed on boom lifts can be easily upgraded to this configuration. Because this control configuration offers such an improvement over our previously recommend control systems for these types of machines, special upgrade pricing is available for owners wishing to reconfigure existing equipment.
Call 615-897-2011 now to discuss your specific application.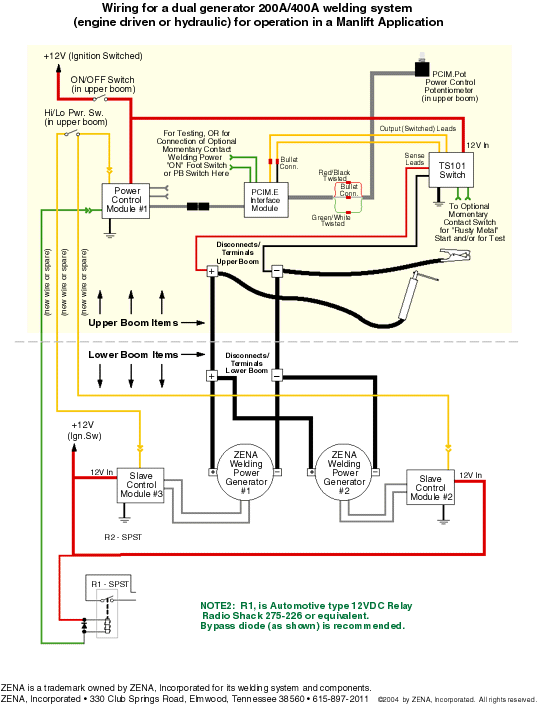 ---
ZENA™ and HydroWeld™ are trademarks owned by ZENA, Inc. for its welding systems and related products.
US & Foreign Patents Pending
© Copyright 2005 by ZENA, Incorporated. All rights reserved.