1993 4x4 Chevrolet Service Truck equipped with a ZENA mobile welding system
The pictures on this page detail key aspects of a ZENA welder installation into a 3/4 ton Chevrolet Service Truck with a V-8 engine.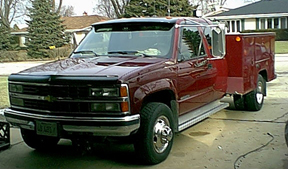 The welding system in this truck is used daily in the owner's welding business. He has a large trailer mounted welder, but it gets little use since the ZENA welder was installed in this truck, which is his primary off-site mobile welding rig
In this installation, the ZENA system was installed secondary to the truck's existing alternator and electrical system.
Welding Power Generator (WPG) installation was installed using a piggyback type power generator mounting method. The owner used a Model A300 Universal Mounting Bracket and an A215 Curved Belt Tension Bracket to simplify his fabrication effort.

The truck was equipped with a standard serpentine belt accessory drive system. In this installation, the WPG is driven by a V-belt connected to a Model AAPK Universal 3-1/2" Add-A-Pulley Kit which is attached to the vehicle's alternator. This eliminates the need to modify the stock drive system and, because the Add-A-Pulley is larger in diameter than the stock alternator's serpentine pulley, provides a bit of overdrive to the power generator, reducing engine welding speed by approximately 15%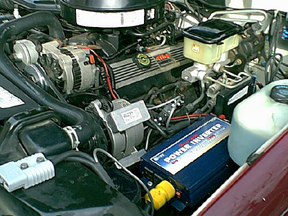 .
ZENA's model ASC1 Automatic Speed Control and a model BJ150.4 quick disconnect system were also installed by this owner.
As you can see from the engine compartment photo, the owner also installed a 1200W inverter to provide AC power for tools and lights.


Time to complete this first class installation -- from scratch -- approximately 4 hours.
---
ZENA™ is a trademark owned by ZENA, Inc. for its welding systems and related products.
US & Foreign Patents Pending
© Copyright 2001 by ZENA, Incorporated. All rights reserved.
[an error occurred while processing this directive]