1984 Chevrolet Truck equipped with a ZENA mobile welding system
The pictures on this page detail key aspects of a ZENA welder installation into a 3/4 ton Chevrolet truck with a V-8 engine. This was an older (pre-serpentine belt) model which is used on a farm for equipment repair. The installation technique shown works on almost all Chevy trucks which use old-style, separate V-belts for each powered engine accessory.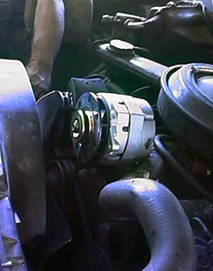 Welding Power Generator (WPG) installation was accomplished by mounting a Model A300 Universal Mounting Bracket to the "top" of the existing alternator bracket. Universal Bracket mounting was accomplished by drilling and taping holes for two (2) 5/16" bolts which are used to mount the Universal Bracket to the existing alternator bracket as showm. Two overlarge (to allow for WPG adjustment) mating holes were drilled through the existing bracket.

The WPG is driven by the same V-belt that drives the vehicle's alternator, which requires the procurement of a properly sized V-belt.
A piece of 1/4"x1-1/4" bar stock (not shown) is used to lock the WPG into a fixed position which clears obstructions and yet allows sufficient V-belt "wrap" around the WPG and the existing alternator. The existing alternator's belt tensioning system works to properly tension both units.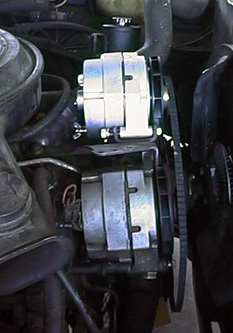 In this installation, the ZENA system was installed secondary to the truck's existing alternator and electrical system.

Time to install from scratch - approximately 3.5 hours (including time to design installation, bore and tap holes, buy materials and fan belt, and tensioning bracket fabrication).



NOTE: We are making improvements in our products continuously Therefore, at any particular time, ZENA's products may vary in details of design and construction from the photos shown here.
---
ZENA™ is a trademark owned by ZENA, Inc. for its welding systems and related products.
US & Foreign Patents Pending
© Copyright 1998,1999 by ZENA, Incorporated. All rights reserved.
[an error occurred while processing this directive]