Chevrolet Astrovan equipped with a ZENA mobile welding system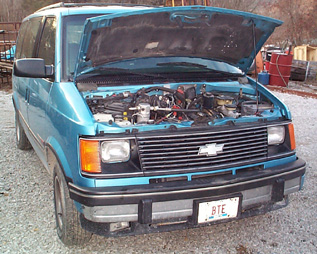 The pictures on this page detail a ZENA welder installation into a Chevrolet Astrovan with a V-8 engine.
Space was very tight and in order to complete the installation the Welding Power Generator (WPG) was mounted with the drive pulley facing the rear of the vehicle, rather than the more normal front facing pulley installation. In this type of installation the WPG turns in a counter clockwise direction instead of clockwise. This presents no problem with regard to welder operation or WPG function, but special care must be taken to insure that the drive pulley retaining nut does not come loose during operation. When the WPG turns in a clockwise direction the nut is self-tightening, however, when turning counter clockwise the nut could loosen. To prevent this, a thread locking chemical is used to semi-permanently lock the nut and pulley into place. (see installation manual for more detailed instructions).
WPG installation was accomplished by mounting a Model A300 Universal Mounting Bracket to a specially fabricated bracket which was made from three pieces of 5/16"x1" bar stock attached to three different points on the engine. Universal Bracket mounting to the fabricated bracket was accomplished by drilling and taping holes for two (2) 5/16" bolts which are used to mount the Universal Bracket. Two overlarge (to allow for WPG adjustment) mating holes were drilled through the fabricated bracket.

Since this vehicle has a serpentine belt drive system, a ZENA Add-A-Pulley alternator power take off kit was attached to the vehicle's existing alternator, and the WPG is driven by a small V-belt that is driven by the Add-A-Pulley attached to the vehicle's alternator.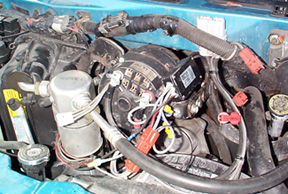 A tensioning/support bracket for the WPG was fabricated from a piece of 5/16"x4" plate which was slotted and formed with a plasma torch. This plate was attached to the engine, and a piece of 5/16"x1" bar stock was attached to the engine and formed to provide additional support/stiffness to the plate.
In this installation, the ZENA system was installed secondary to the truck's existing alternator and electrical system.
An ASC1 automatic speed control and a BJ150.4 quick disconnect kit were also used in this installation.

Time to install from scratch - approximately 8 hours (including time to design installation, bore and tap holes, buy materials and fan belt, and tensioning bracket fabrication).
---
ZENA™ is a trademark owned by ZENA, Inc. for its welding systems and related products.
US & Foreign Patents Pending
© Copyright 2000 by ZENA, Incorporated. All rights reserved.
[an error occurred while processing this directive]