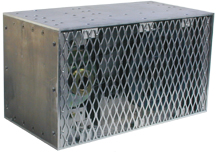 HW200 Hydraulic Drive Welder (Truck Style)
200A 100% Duty -- 10-21 gpm @ 1500-2500psi

Designed for daily, heavy duty use in service trucks, military vehicles, industrial equipment, tractors, construction equipment, agricultural equipment, or other vehicles with motor-driven hydraulic power systems, our unique, self-contained, ultra-compact, hydraulic arc welders really perform and, as with all ZENA mobile welders, are backed by our three (3) year limited warranty.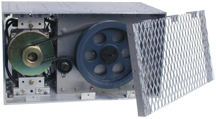 HW200 -- Rear/Pulley Side View -- Grill Open
22"W x 12-1/2"H x 11-1/2"D -- 1.8 cu. ft.
Taking up less than 2-1/2 cubic feet of space, and requiring as little as 8-10 gpm of hydraulic system flow @ 1,500 psi (with optional low volume motor upgrade), six different standard models are available -- 150A, 200A, 300A, 400A, single operator 300A/dual operator 150A, and single operator 400A/dual operator 200A. (Other system control options are also available.)
Custom/OEM units, vehicle body built-in kits, and do-it-yourself assembly models are also available ALL models are 100% duty cycle.
Our hydraulic welders are based on our patent pending welding technology and utilize the same unique control system as all of our other mobile welding products. All models include electronic switching circuits which can be used to control hydraulic system operation and/or vehicle engine speed.
That's not all! All models can also be used with ZENA's Universal MIG Spool Feeder Adapter or our Universal MIG Spool Gun Adapter -- allowing you to add MIG welding capability to your rig. These hydraulic drive welding systems can also work with ZENA's custom built TIG power adapters.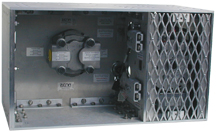 HW200 Welder -- Rear Motor/Cable Side View
Hydraulic Lines and Welder Leads Connect Hers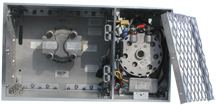 HW200 Hydraulic Drive Welder
Motor/Cable Side View -- Grill Removed
Installation couldn't be simpler:
Find a suitable location --- 150A and 300A models are 22-1/2"L x 12-1/2"H x 11-1/2" D (1.8 cu. ft.) -- 300A & 400A models are 29-1/2"L x 12-1/2"H x 11-1/2" D (2.45 cu. ft.).
Bolt the welder into place (don't worry about exposure to the elements).
Connect, to the welder's drive motor, a flow controlled, overpressure protected 3/4" hydraulic inlet/supply line, and an unrestricted 1" outlet/return line.
Connect one wire to your vehicle's chassis ground and another to a low-current (10A) ignition switched 12 volt (or 24volt) power source.
That's all there is to it.
When your ready to use your hydraulic welder, just plug the 20 foot long welding/control cables into quick disconnect connectors located on the welder's weather proof/maintenance free aluminum enclosure, and you're ready to go.
All that's left if to start your engine, set the engine speed (if not using ZENA's built-in speed control circuits), and activate any necessary hydraulic valves (also not necessary if you are using automatic controls).
That's it! You're ready to weld!

Call 615-897-2011 now to discuss your specific application.
FARMERS --- also check out our
PTO drive welders
.
---
ZENA™ and HydroWeld™ are trademarks owned by ZENA, Inc. for its welding systems and related products.
US & Foreign Patents Pending
© Copyright 2000, 2001, 2002, 2003, 2004 by ZENA, Incorporated. All rights reserved.
[an error occurred while processing this directive]