J&S Mobile Welding to ZENA, Incorporated:
Dear Sirs:
I'm a professional welder with a major welding contractor in the US.
We currently use Genie personal man lifts, and some of them have a welder built in to the basket. If this is, your ZENA mobile welding system, then please call me as I plan to purchase one for my new company (J&S Mobile Welding).
This welder on the Genie lift has that hi freq. sound (harmonic) that your F.A.Q.'s have discussed - so I believe that I have found the right company.
Again, I am a PROFESSIONAL welder. I weld every day on critical structural joints in all positions and many thickness with top of the line equipment, i.e., Miller Trailblazer diesel engine driven large frame tow-able welders (both leased and brand new), and I will swear under oath that your welder is not only more convenient but the best running welder I have EVER used!
What model welder, accessories, and setup would I need for my '93 Chevy S-10 blazer with a 4.3L V-6 engine with serpentine belt setup. I currently have a Miller Bobcat 250 NT gasoline welder that is doing great but the convenience of your system could be a cost effective benefit to my company.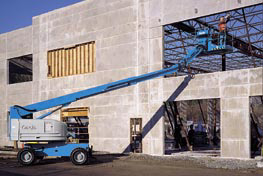 Genie Weld Master Man Lift
ZENA, Inc. to J&S Welding:
Dear J&S Welding:
Yes, we supply the welders used on Genie lifts. Genie purchases our 200A units (model MW200) as a kit of parts which they factory install, and they also equip some lifts with various control options and other accessories which we also manufacture (i.e., automatic speed control system, MIG interfaces for spool feeders and spool guns, foot switch control systems, etc.).
A 150A stick welding system truck kit with 20' leads, automatic speed control, a quick disconnect system, and a single-V Add-A-Pulley power take off will cost you $775 + shipping.
A 200A stick welding system (identical to the one used on the Genie lifts) for your truck with 20' leads, a quick disconnect system, automatic speed control, and a double-V Add-A-Pulley power take off will cost you $1,175 + shipping.
If you need longer leads, the cost is $40 per extra 10' length (both ground and electrode holder lead are extended). In addition to longer leads, lead segments are also available that will work with the quick disconnect system.
ALL of our welders are 100% duty cycle, and ALL welders and accessories come with a 3 year warranty -- with NO restrictions on commercial use. Other than power, welding characteristics are identical on all of our welding systems.
Higher amperages are available for cutting, gouging -- or for single engine multiple operator systems -- 300-800+ amps.
Please feel free to call if we can be of any further help, or if you want to discuss your specific application in more detail before placing your order.