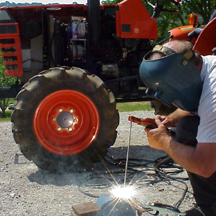 The ZENA™ mobile welding system is a self-contained, compact, engine-driven, high-frequency DC welder which can be easily attached to any vehicle (tractors, farm trucks, off-road/4x4 vehicles, specialized utility vehicles, etc.), converting it into a sophisticated self-propelled mobile welder -- saving thousands of dollars over comparable mobile welding equipment.
Add a couple of accessories, and the ZENA welder can also be used as an automatic battery charger -- allowing you to quickly charge batteries with from 150 to 600 amps of power (depending on model of welder used).
Thanks to patented cutting-edge technology which allows the ZENA system's power generator to be ultra-compact without sacrificing reliability or performance, installation is easy to accomplish. And installing a ZENA welder does not adversely affect existing vehicle electrical or mechanical systems. Installation can be professionally done by factory trained installers, OR can be easily accomplished by a skilled do-it-yourselfer.
Featuring a unique patented electronic control system, the ZENA system makes welding easier for the novice and offers the professional unparalleled control of the welding process. Our controls also provide significant safety features which are particularly important when operating in difficult environmental conditions.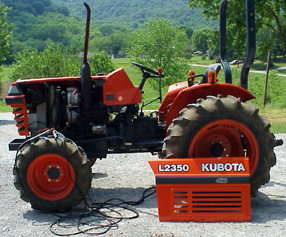 Designed for 100% duty-cycle commercial use, the ZENA mobile welding system comes with a three (3) year limited warranty which does not exclude commercial use.
Built to meet or exceed military and underground mining equipment specifications, no other welder better meets the unique maintenance requirements of marine, agricultural, and industrial users as well as others who need access to superior, high-power welding equipment that can be used for repair work anywhere -- operating ultra-reliably and ultra-safely in remote locations.
High quality 20 foot long welding cables are standard equipment on all models.
Cables from 30 to 200 ft. are available on a custom order basis and (thanks to our patent pending technology) the system operates with no loss of welding power when using the longer cables.
Various models are available and custom welding systems can be built to meet your exact requirements.
Accessories are also available which, for example, make it possible to provide automatic control of engine speed, enable multiple power generating units to be combined to produce high welding currents, and to make installation easier and use more convenient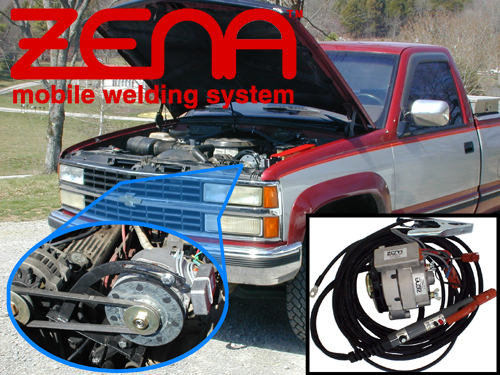 Buy risk free using our Online Store.
To receive a special discount on the ZENA welding system of your choice. Enter the word "farmer" into the online order form, your discount will be applied automatically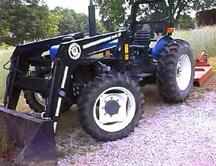 ---
ZENA™ is a trademark owned by ZENA, Inc. for its welding systems and related products.

US & Foreign Patents Pending

© Copyright 1998,1999, 2000 by ZENA, Incorporated. All rights reserved.

[an error occurred while processing this directive]