All oceangoing sailors want to be as self sufficient as possible. For those who choose to cruise or work in a steel yacht, an aluminum yacht, steel or aluminum work boat, or a fishing boat, a welder powerful enough to make repairs or modifications is high on the desired equipment list.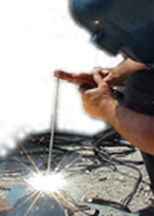 Sadly, it's an item that is quickly crossed off of most lists -- due to cost, weight, and space requirements -- and vulnerability to corrosion at sea.
However, with the advent of the ZENA™ mobile welding system a completely self-contained, ultra-compact, retrofittable engine-driven, high-frequency DC welder, controlled by waterproof electronics, with all the power of a commercial $5,000 diesel driven mobile welder is now an option for any boat owner. And, its a low cost option. The most popular onboard ZENA welder for offshore use costs less than $600! Just look at our buyer's guide for a list of the items that you will need.
Featuring a unique electronic welding control system (patents pending), the ZENA system makes welding easier for the novice, and offers the professional unparalleled control of the welding process. The controls (which are built into the electrode holder) also provide significant safety features which are particularly important when operating offshore, or in difficult environmental conditions.
Welder installation is simple and can either be accomplished by the boat owners, or by their mechanic.

This welder is tiny, but it's no toy!
With even ZENA's smallest (and most popular) welder, the model MW150 (150A, 100% duty) you can weld or cut heavy plate, make repairs, fabricate items -- even build a complete hull. Aluminum, stainless steel, mild steel -- all can be welded successfully. AND, welding current is completely isolated from the vessel's electrical system, so installing a ZENA marine welder will not adversely affect existing electrical or mechanical systems.

That's not all!
Just add an external voltage regulator, and the ZENA welder's power generator can also be used as a high output marine alternator -- either as a backup for the vessel's primary alternator (the most popular method), or as a replacement for your primary alternator. For example, on some boats, owners use their standard alternator just to charge a starting battery and to handle key (low current) electrical needs, and they will use one (or more) ZENA units to handle charging a large battery bank.
With lead extensions, you can even do welding (for free or for hire) on other boats, docks, etc. OR, with an external regulator, charge another vessel's batteries.
The ZENA welders are so compact, that a few can be taken along on extended cruising trips, and used as barter items in remote ports!

Built for 100% duty-cycle marine/commercial use (CLICK HERE if you don't know what duty cycle is.)
The ZENA mobile welding system comes with a three (3) year limited warranty which does not exclude commercial or marine use. Built for wet and dirty conditions, to meet or exceed military and underground mining equipment specifications (the water found in underground mines is often more corrosive than sea water), no other welder better meets the unique maintenance requirements of marine users as well as others who need access to superior, high-power welding equipment that can be used for steel construction or repair work anywhere -- operating ultra-reliably and ultra-safely in remote locations.
High quality 20 foot long welding cables are standard equipment on all models. Longer welding cables from 30 to 200 ft. are available on a custom order basis.
Buy RISK FREE using our Secure Online Store.
ZENA™ is a trademark owned by ZENA, Inc. for its welding systems and related products.
US & Foreign Patents Pending
© Copyright 2000, 2001 by ZENA, Incorporated. All rights reserved.
[an error occurred while processing this directive]