You may find that there is even less "work" than this. Oddly, we have found that often when we give someone a name to call, the prospective customer does not always call.
To compensate you for any inconvenience that this may cause you, through this program, you are authorized a substantial discount from our normal retail price for the purchase of a single MW150, MW150K, MW150KB, MW200, MW200K, or MW200KB (you can also take a 10% discount from our factory direct prices on any accessories which you may want).
NOTE: Names and phone numbers of Local Product Contacts are not, and will never be, published on our web site (or in any other way), nor will such information be shared with, or communicated to, any commercial entities. This information is only disclosed, privately, on a one to one basis, by our staff, when speaking, or communicating, directly with prospective customers living near a particular Local Product Contact.
If this program is of interest to you, call me (toll free) -- 877 ZENA INC (877-936-2462) (9 AM to 5 PM CST), and let me know where you are located. Then, if your area is "free", we can move forward and set you up in our database and, of course, get your new welder on its way to you!
I look forward to speaking with you soon.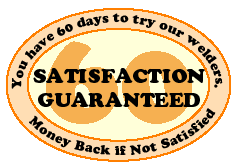 Sincerely,



Anthony M. Blazina, President
ZENA, Incorporated


PS: When reading above about the salesman selling $20 bills for $5, did you wonder why we don't just raise our price?
---
© Copyright 1999-2004 by ZENA, Incorporated. All rights reserved.
[an error occurred while processing this directive]